Lavoir Laundry Experience
My Role
UX Design
UX Research
UI Design
Branding
Challenge
Design a modern laundry experience that is a pleasing part of your day. Create machine controls that are intuitive and easy to understand, across platforms.
Solution
I created a new machine interface under a luxury brand I created: Lavoir. All Lavoir machine functions are more efficient, conserving energy as well as labor. The machine interface is durable, memorable and accessible for users with disabilities across platforms. The Lavoir brand appeals to a discerning customer looking for a superior brand experience.
User Research 
I interviewed and surveyed a diverse group of people of different ages, backgrounds and nationalities about how they do their laundry, and what parts of the process please or displease them. 
Distilling the feedback from my 34 users, I found the following points of difficulty and areas where improvements could be made:
Pain Points
Door locks with no cancel
Forgotten wet clothes in washer
Washing on wrong setting
Damage to clothes
Too many settings
Maintenance issues
Residue/material left from previous load
Uncertainty around soap quantity
Efficiency of machine
Timing unclear
 
Potential Improvements
Door locking function simple, clear
Friendly reminder sound to help user return to task
Simple, clear interface
Gentle options, separation of function settings
Simplified interface option
Alert lights for issues
Rinse drum function
Automatic soap dispensing
Use efficient electronics, optimize resource use
Very clear time readout
Market Research 
I studied washing machine interfaces & control panel styles across brands, countries and styles. 
Touchscreens
My research revealed that there are few washing machines with touchscreen controls on the market. The main companies are not transitioning to touchscreens, and the vast majority of washers on the market have retained traditional tactile dials, switches and buttons.
I was curious about this, and looked deeper. First, I found research that showed that washers with touch screens had been tested on users and then I included the question in my interviews.
My user interview responses:
"I'm sick of touch screens"
"I'm nervous about breaking the touch screen"
"I want to turn the dial and hear that washing machine sound"
Other studies showed:
- Touchscreens percieved as too fragile and lacking durability
- Learning curve was steep and painful
- Users struggled to transition from traditional washing machine control conventions to a flat, digital interface.
Auditory Feedback
I followed up on users stating they enjoyed the tactile experience of washing machine controls, that turning the knobs and listening to the impact was part of the experience they found satisfaction in, and some even enjoyed. Delving into academic research on the subject, I found many insights indicating my users were not alone, and that sound was a well documented tool impacting user satisfaction.
"79% of the participants preferred the audio-visual system to the visual-only system. The audio-visual system was also perceived as easier to use and received higher ratings in terms of aesthetic appeal and perceived usability"
  -Rafa Absar, Enhancing navigation using auditory feedback: a case study of
a hierarchical information visualization system, 2012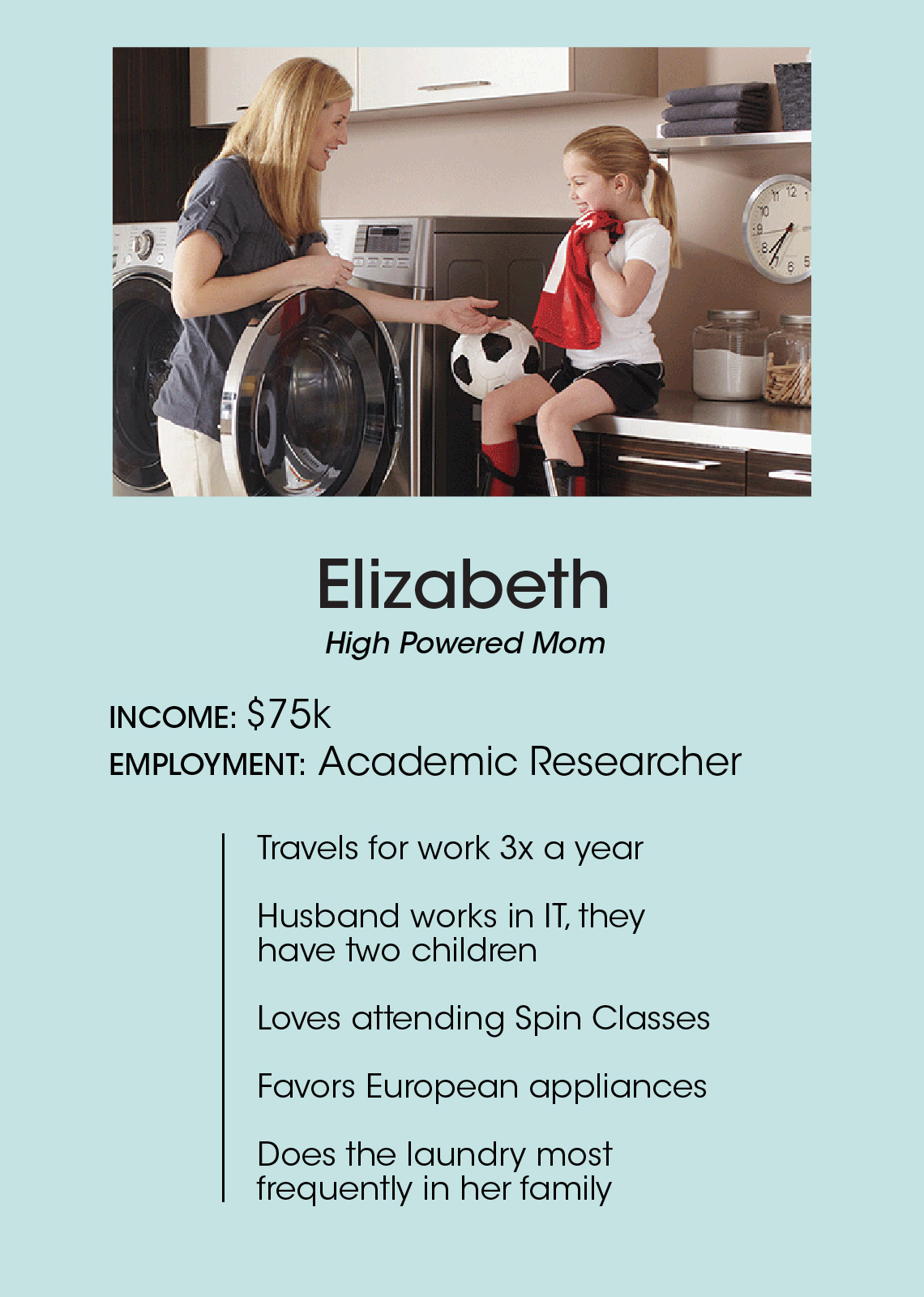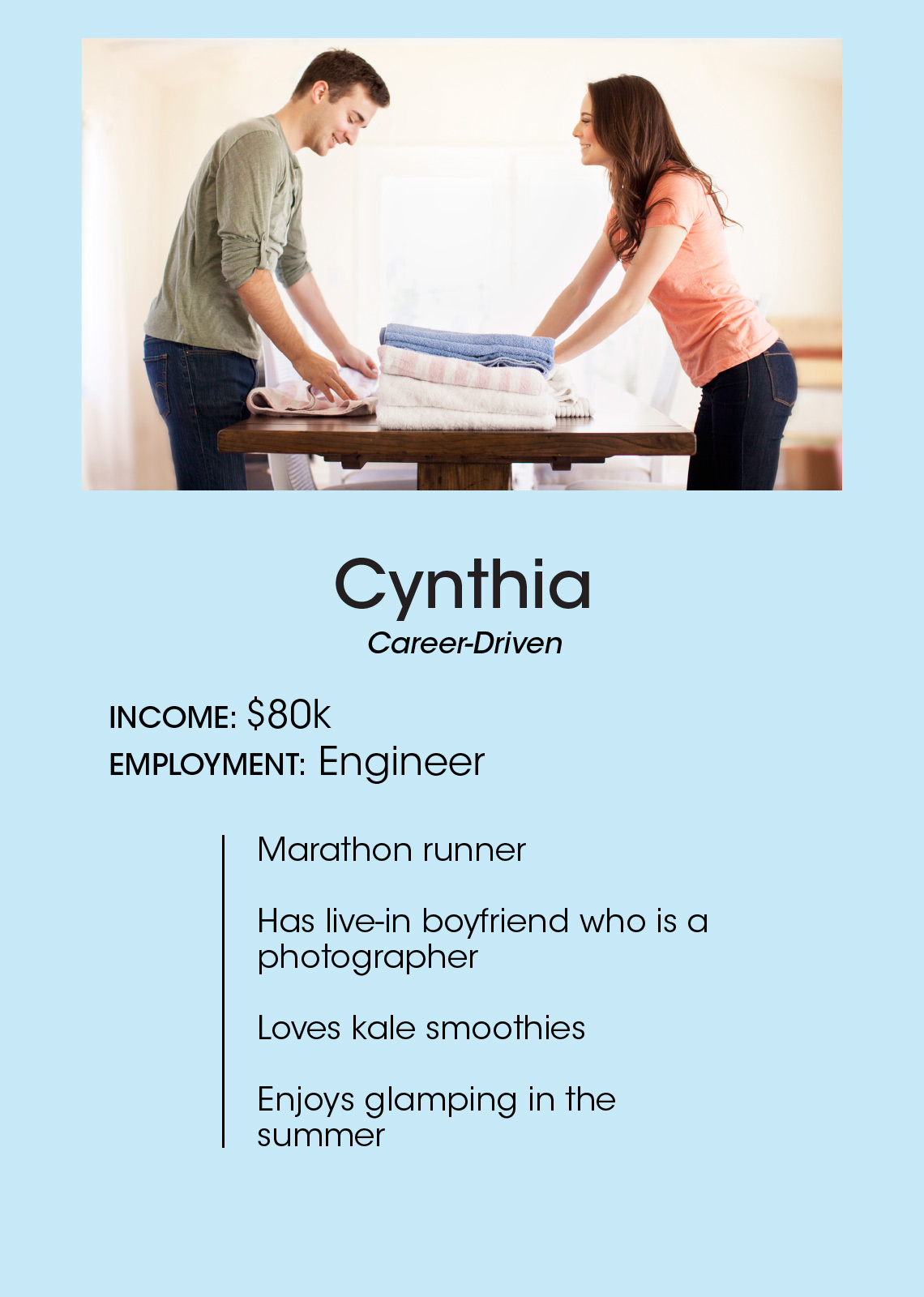 Conclusions & Shaping Customer Experience
Distilling all this information, the biggest takeaway was that people don't enjoy doing their laundry. The experience of interacting with your washing machine has not been crafted into an experience people like, look forward to, or want to share with others. This is a huge opportunity to move ahead, beyond solving the basic user experience, to creating a pleasing user experience while doing laundry.
Applying these conclusions to a Brand Experience model derived from Abraham Maslow's Hierarchy of Needs, and examining my user personas, I developed a new washing experience through my brand that can provide a delightful user brand experience.
Taskflow & Card Sort
The next step in the process was to understand what the steps users took to complete the task. Through my survey and market comparison, I made a card sorting exercise and studied 12 users and their responses. I had users talk their way through the card sort, helping me uderstand exactly how they take part in the laundry process. Next, I created a taskflow based on their choices and described behaviors.
Taskflow Insights
First I laid out the most typical taskflow for users, then I figured out how the new experience would be improved by simple automation of some functions. 
I had a major insight when I went back to my original feedback from users at this point, realizing that where most experiences were failing was at the final stage of the process: remembering to remove your wet, clean clothes and the sounds (or lack thereof) machines were making to remind people of this step.
Most washers call the job done once your clothes are clean - but the final step is really removing your clothes from the machine, at the end of the cycle completion. Machines that do address this issue have chosen to use unpleasant sounds, often without options to silence them. So, lots of room for improvement around this final step of the laundry process.
Interface Design
I started by sketching different ideas for tactile controls, keeping the simplified aesthetic of the Lavoir brand in mind.
User Testing
I tested my first prototype of the control panel with 12 users. I made a 3-D model of the physical interface and observed their interactions with the panel. They responded positively to the controls and gave valuable feedback.
Users responded very well to dials with recessed fingerprint controls.
"Oh, wow! I can just imagine this, I'd want to twirl it around a few times before I started my laundry. That sounds really satisfying."
- User during testing
Physical Interface
The two models shown here feature a simplified panel with dials and sliders. The basic model offers the usual functions of a household washing machine. The extended feature model, pictured second, offers advanced functions like delayed start and an automatic softener option.
Both models feature automatic soaping and connectivity to the web, for remote access to the machine's controls.
In addition to being an attractive solution, these controls are more easily used by people with disabilities and use intuitive directional understandings of temperature and time. Finally, these controls are synched to an online system accesible from each household's unique URL.
Connectivity
I created an online design solution that allows users to readily control their machine from a computer or remote device without having to learn a new interface.
Wireframes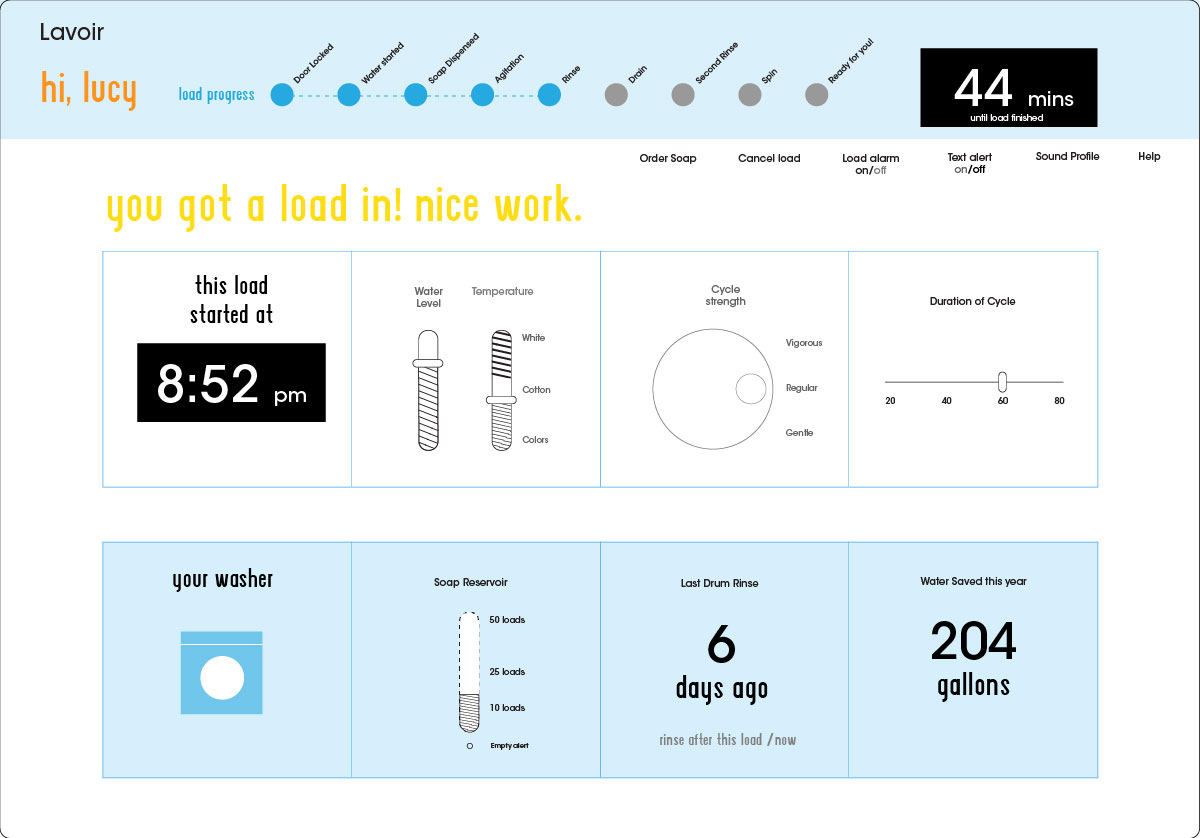 After activating their account on the Levoir website, users would recieve a pin to access their personal machine via their machine's unique URL.
The graphical user interface echoes the controls of the physical interface on the machine, allowing users to change settings from upstairs, the office or the airport.
Prototyping
I created a live prototype of the Lavoir graphical user interface in Adobe XD, and tested the process with users. Through several iterations, user feedback through testing was crucial to the successful development of the project.