Intuitor: Educational App
Challenge
Form a team and in just 52 hours together: ideate, concieve and proof a viable start up idea based on current Artificial Intelligence technologies.
Solution
Intuitor is an Artificial Intelligence (Ai) based app that helps you notice and modify your non-verbal behaviours to help you become a better communicator.
Context: Ai StartUp Weekend
This team and project was formed at an Ai StartUp weekend in Bellevue, Washington. A true collaboration, we made huge progress as a team over the course of the 52 hours we spent together. I am super proud of the strong team bonds we formed and the positive reception our project had at the culmination of the event.
The Intuitor team
Colin Roberts
Educator, Team Leader
Jaskarn Lehal
Non-technical researcher
Jack Burns
Non-technical


Lytang Kelley
Product Manager
Marie Zahradnik
Product Design & Research
Shriram Chandra
Engineer (Amazon), Machine Learning Expert
Vijay Gaikwad
Engineer (Microsoft), Computer Vision Expert
Concepting & key questions
After forming our team, we work together to define a unique opportunity in the market and a need with users through asking these key questions:
How can we use Artificial Intelligence tools to help us learn?
What skills do people need to learn?
Where is there a unique business opportunity for us to enter the market successfully?
Research
We identified a business opportunity where Ai APIs and user needs overlap: communication. Currently machine learning and computer vision are strong enough to gather, evaluate and give feedback on human communication, both verbal and non-verbal.
Next, I developed a robust set of questions to further understand what experiences users were having around communication. I validated the questions and further refined them with Lytang and Colin. Then I trained the team in interviewing users and sent them out to gather responses face-to-face.
User insights
When I examined our research it clearly showed several areas for us to focus on:
Public speaking, business presentations, work-related conversations
The need for practice & insightful feedback on performance
"If I was better at communicating, I'd have more job opportunities. This is a skill needed across all jobs. It would change my life."
- User surveyed
Unique offering
Together with our Product Manager, Lytang, I helped guide the team through the process of further product discernment. We narrowed our focus by choosing a well-defined showcase feature that would show the potential for our product by demonstrating it as a powerful learning tool.
Based on our user research and market research we decided to move ahead building an app that would help people improve their non-verbal communication skills.
How: Using computer vision and machine learning to identify and analyze users cues
Use cases: presentations for work or school, practicing difficult conversations (salary negotiation, job interviews, immigration interviews, etc.)
Brand keywords & User personas
Next, I walked the team through choosing keywords for our brand and we rapidly created basic user personas we would target with our product's phase one release.
Branding & Design

Naming & Moodboard
We discussed names for our product at length, and from 13 options, we narrowed them down to just 3. Finally the team chose the name I pitched: Intuitor
Next, I gathered inspiration and successfully pitched a moodboard for our brand to my team. Our brand would focus on several of our keywords: educational, innovative, emotionally-intelligent. They approved it at 8pm Saturday evening.
Taskflow
Next, I designed a userflow to navigate the app experience and tested it with users, iterating and finally validating a user flow:
1. Welcome screen
2. Choose cue or Start recording button
3. Focal point (indication of recording)
4. Stop process
5. Interstitial while calculating
6. Results screen(s) with improvement suggestions AND encouragement
7. Encourage you to keep trying, button to do it again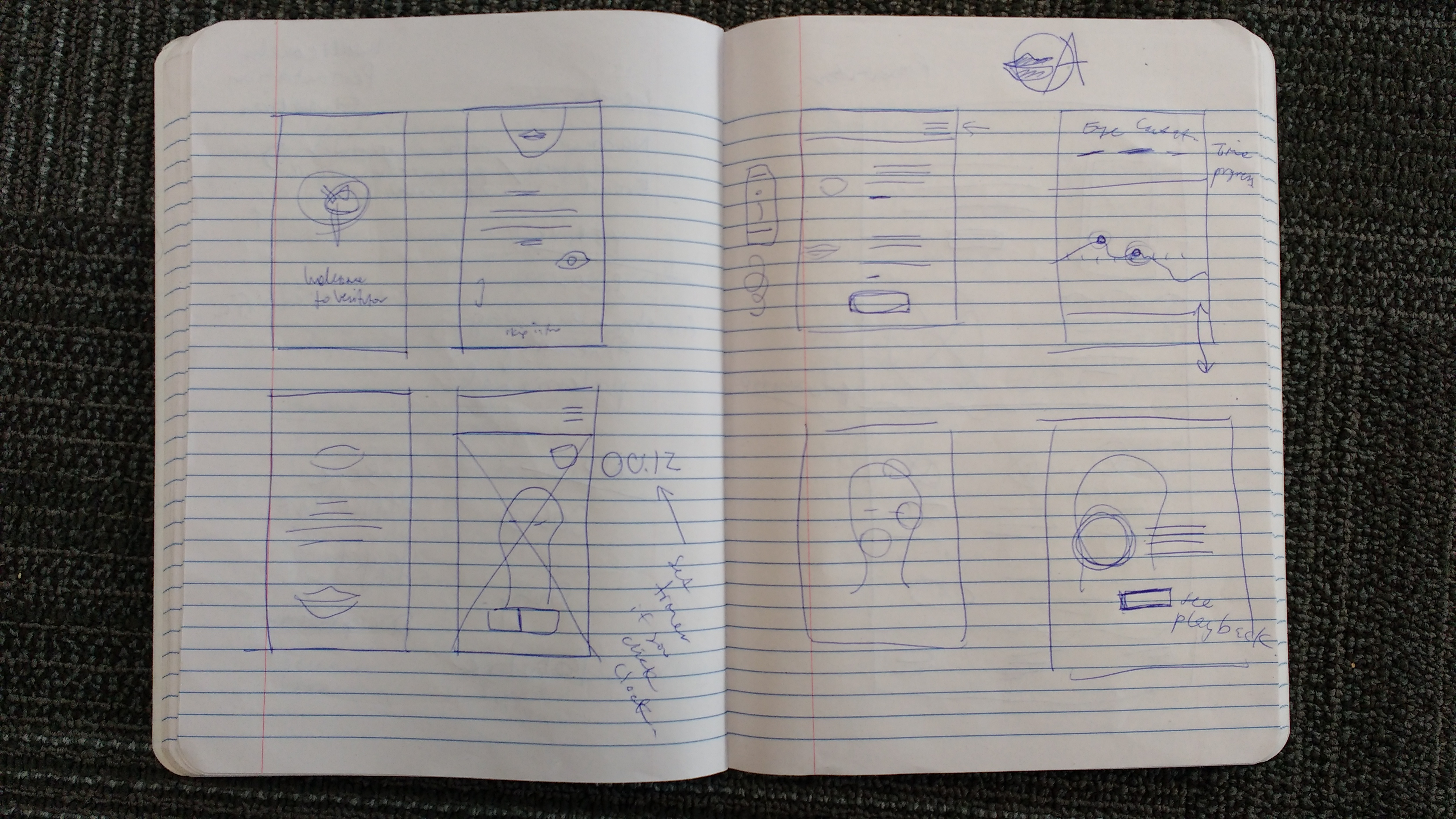 User Interface Design for iOs
User Interactions: Recording
During the recording function of the app we needed to create an ongoing way for the user to feel engaged with the recording screen: something for the user to focus on (and be able to maintain eye contact,) as well as constant feedback that the recording process continues until stopped.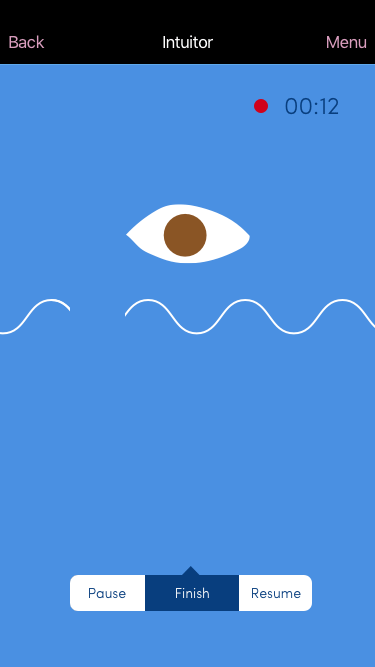 User Interactions: Data analysis
Since this is a primarily data-driven app, being able to show the user in-depth analysis of their performance and how to interpret it is vital to the success of this product. This animation shows users their performance over time, and can choose to see how their different performance indicators overlap. Allowing the user to control the visualization of their own data allows them to focus in on one aspect of their performance and choose what feedback they would like to receive, customizing their app learning experience.
Business Plan & Launch goals
As an essential part of the StartUp weekend experience, we made a business plan for product launch and an outline of the potential profits in our industry.
We aim to target the 30 billion dollar B2B skills training, B2C presentation industry, with reach into the self-help app market, as well.
Our steps to move forward in the 6 months after launch: validation, defining product goals, tech/Ai development & testing, release of beta version to public, product feature refinement, release B2B beta to business partners.
"I'd pay $500 for this. Meet me on Monday."
- Manager, Toyota Dealership
Award-winning teamwork
After 54 intense hours together, our team was incredibly bonded and excited to share our project. Following my design sprint where I rapidly prototyped our app experience, I worked with our entire team to create a presentation for our leader, Colin, to bring home the whole project in front of the judges.
We were extremely proud to win the 'Audience Favorite' award, and especially because we were surrounded by so many great Ai ideas. It was fantastic to get so much validation from our peers that this unique app was a tool they would like to incorporate into their everyday lives.
The mighty Intuitor team continues to be in touch, six-months after project completion, and we are currently exploring other projects together.